An Exclusive Interview With Charyn Harris, Author, Coach & Music Industry Professional.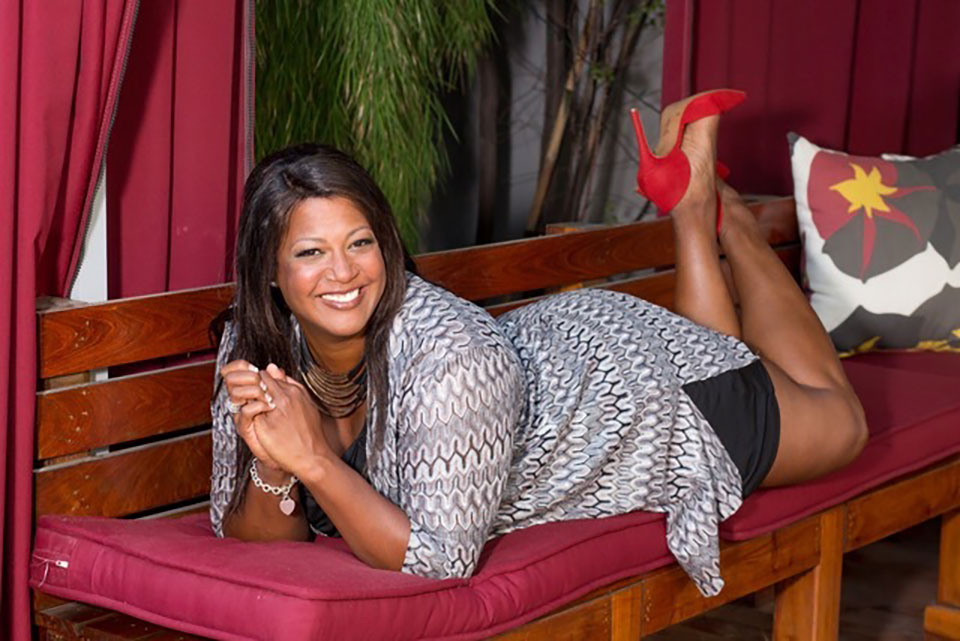 Q: Please tell us about what brought you to writing you're amazing new book 'Art of War for Creatives':
CH: I thought about everything I didn't have when I was building my career and the idea around writing a book had been brewing. Every time I would hop on Clubhouse and either speak or listen in, I heard pain points that I had either lived through or witnessed. I've seen too many Creatives give up and I wanted to be a voice of encouragement. Even with a degree in music from one of the most prestigious music institutions in higher learning, there was so much about building a career I didn't know, that I learned along the way. There were tons of mistakes and missed opportunities that were integral to my journey and self-development.
I also had a few former students who are working on their careers asking me for career advice. I promised them I would send them an email to answer their questions. I had been toying with the idea of writing a book, but honestly, I was intimidated by the process. Then came the pandemic and I had a ton of time on my hands, so I sat down and just let it pour out. 

Q: You've worked in bands with some of the world's best - can you share with us a special performance that sticks out in memory: 
CH: My favorite memory was working with Barry White. It was really unique to have so many musicians on stage and a live orchestra. Around 1996, we were touring with Earth Wind & Fire, which was a huge treat. We played a show in Newport, Virginia and it was just magical. What was even more magical was that Isaac Hayes was also on the bill. Can you imagine, Barry White, Earth Wind & Fire, and Isaac Hayes… all in one night? Just magical!
Q: Your work with youth in the community is so special, can you tell us about A Place Called Home (APCH) and Project MuszEd? 
CH: A Place Called Home has been a staple in South Los Angeles for more than 25 years. I was hired as the choir director while Catherine Goldwyn, the sister of actor Tony Goldwyn was directing the department. After she left, I was asked to run the department. This was a huge learning curve for me. Although I had worked corporate jobs from time to time, I was a bit intimidated by structure, but I diverted my attention to building out the department. 
Now, understand that when you are about 15 years old, you've pretty much shape who you are and your tastes, including music. I grew up playing classical, and I wasn't going to torture my students, quite honestly. Although I had a few that loved and pursued classical music, most of them wanted to play rock, jazz, soul, etc. 

In the early days at APCH, there was a need for additional resources. I took it upon myself to create a nonprofit to supplement their needs and to help serve kids who lived in other areas; thus, Project MuszEd was born and took on a life of its own. Nonprofits often have restrictions, especially in how grants are allocated. As a small nonprofit, we were able to create a unique model with Project MuszEd that allowed us to raise funds specifically to support music students. We went on amazing field trips, soundchecks for shows, visits to recording studios, concerts… the list goes on and on.

Q: You're tour manager for Grammy winner Macy Gray, what does a show day look like for you and the crew? 
CH: Show day can start super early. I have a little OCD when it comes to structure, so I like everything to run smoothly. First of all, I communicate with the venues at least 3-4 weeks prior and advance the needs, so they are clear on her technical and hospitality rider The rider provides a listing of everything that she needs. We have a technical rider and a hospitality rider. I have to arrange to get my crew (Front of House and Monitor Engineers) to the venue first for load in so they can get the lay of the land. If we have a screen for images, I have to make sure that we have the correct files and work in tandem with our Creative Director who is not usually onsite, and our Production Manager, who I work with in advancing the shows. I plan for at least a 2-3 hour line check and soundcheck. Sometimes Macy will join in, but not always. I will sometimes make sure her microphone is dialed in. My biggest responsibility on show night is making sure that she has everything she needs in her dressing room from the hospitality to basic items such as good lighting, seating, and mirrors. You'd be surprised how many times I'd have to have the in-house production managers and staff scramble to provide what I need. When something is on the rider, it is an expectation. Her needs are specific, and she takes them very seriously since they serve a function, help her in her preparation for a great show and give her a sense of comfort. I try to bring her wardrobe over early, so it is there once she arrives. Some venues have a staff, so we can have assistance with prepping her clothes for the show. I keep an emergency bag of the items that Macy needs the most - and forgets the most, LOL. They could just be little things, but it helps me avoid going to the store constantly prior to the show or even having to send a runner and risking pushing everything back. Some venues are union, so they are very specific about their staff and time.  
After soundcheck, I usually arrange for the guys to have dinner. Depending on our distance from the venue, Macy may or may not join us, or she may have dinner in her dressing room. I like to make sure everyone has a least an hour to eat and an hour prior to the show to get dressed and get into the zone. Once showtime hits, the biggest part of my job is done, and I can relax!

Q: What's the greatest fear you've had to overcome to get where you are today? 
CH: I used to have a fear of making mistakes and horrible anxiety. I was afraid that I would forget the music while playing, so I almost always play with charts. When I worked with Barry White, I re-created my charts lead sheets on index cards with just the chord changes. This helped me tremendously. I can remember some things but having the music in front of me really helps ease my anxiety.
Q: Can you tell our audience one of your most memorable moments in your career?
CH: I think the most incredible moment for me was playing Madison Square Garden with Barry. It had a special meaning to me and was almost surreal. My mom took me there when I was about 10 or 11 to see The Jackson Five. I remembered the exact seats we sat in, because they were two seats together that were isolated in the loge section. It brought back a ton of great memories. Now, if you saw the movie about The Jackson Five, on that night, every girl ran backstage… including me. That moment made it in the movie! I even lost my shoe while I was running. My mother was completely terrified and of course, I wasn't thinking of the danger of crowds or being trampled, LOL. I found my shoe, but the shoelace was gone, and we had to ride for two hours on the subway to get home. My mom was not happy with me. 
Q: What's one lesson you've learned in your career that you can share with our audience?
CH: One of my biggest lessons learned was to be mindful of my associations. There are a lot of personalities to maneuver around in the music industry. Some personalities come with baggage that you really don't want to be attached to. Sometimes we know someone in one context, but they may have a completely alternate agenda or reputation that is not favorable, and if you are in this circle, you can be affected. 
Q: Which woman inspires you and why? 
CH: I'm really inspired by Venus and Serena Williams. I knew a little about their story, but seeing the film, King Richard just drove it home for me. There was a scene where Venus was being interviewed to the point that the journalist was almost trying to figure out how she developed her confidence. Even at about 14 years old, her sense of identity, confidence, and self-love was unshakeable. 
Q: What are some of the challenges you feel women face today?
CH: I could go on and on about this. Women constantly struggle with the need to feel protected, accepted, and feeling confidence. For some reason, we listen to other people's opinions of ourselves and take them to heart. We have to learn early on how to decide who we want to be, how we want to be perceived, and how we want to present ourselves. Once we do, we need to not let ourselves be bullied. We were once warriors and rulers of nations. We've transitioned and have lost our power. We need to get it back and stop waiting on a fictional prince to sweep us off our feet. A man could never match our strength and abilities. Let a man have a monthly cycle and birth babies with no meds. They'll never make it. We have to learn to recognize and vocalize our strengths. 
Q: What advice would you give to young women who want to succeed in the workplace?
CH: Men are conditioned to be team players from day one. Everything is based on a game and strategy. My advice would be to take a few pages out of the male playbook. 
Learn to be a team player with other women
Learn how not to be intimidated by men
Ask for more and don't accept less
Strategize and stay ahead of the game
Stay on top of business trends, especially in technology and finance
Be a Badass
We have to learn how to have clarity around what we want and own it.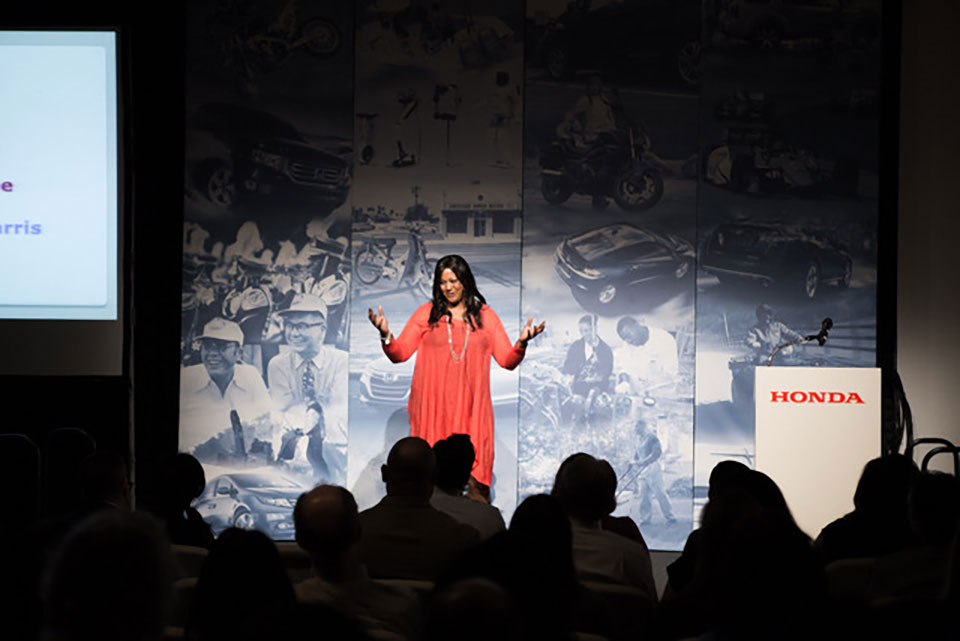 Q: After high school, where did you feel your career path would take you? 
CH: I had no idea. All I knew is that I wanted to do something around music. I originally told my parents I wanted to be an attorney, but that quickly changed. I'm glad I followed by gut.
Q: Can you tell us how you manage your work-life balance?
CH: That's funny! I'm not great at it but am trying. I really enjoy what I do. Sometimes I'll try to stay a little longer when we travel to someplace interesting, if I have time. I have family all over the world, so I like to try to visit them when I can. I love getting 2-hour massages and have been making an effort to get out and listen to more music.  
Q: What would be the title of your autobiography?
CH: The Charyn Harris Experience
Thirty Three Things About Charyn Harris

1. If you could share a meal with any 4 individuals, living or dead, who would they be? 
Cleopatra, Maya Angelou, Billy Strayhorn, Harriet Tubman
2. What's your favorite family tradition? 
Cooking for the holidays and serving meals on my grandmother's fancy dishes.
3. What celebrity would you like to meet at Starbucks for a cup of coffee? 
Serena Williams
4. What's your favorite thing to do in your free time? 
Massages
5. Who is the most fascinating person you've ever met? 
A toss-up between Quincy Jones & Herbie Hancock
6. What was the last book you really got into? 
The Art of War for Creatives - I re-read it and I have to say, it's really good!
7. What's the most amazing adventures have you've ever been on? 
Visiting Egypt
8. Among your friends, what are you best known for? 
My mac n cheese
9. Where's the strangest place you've ever been? 
Beirut
10. What's your favorite international food? 
Indian
11. Who is your favorite author? 
Maya Angelou
12. What's your favorite app on your phone? 
Stockpile
13. Best and worst flavor ice cream? 
Butter Pecan
14. What TV shows did you watch when you were a kid? 
Julia, The Flintstones, Good Times, Sanford & Son, Get Smart, The Monkees, Soul Train, The Twilight Zone
15. What's the most spontaneous thing you've done? 
Had a baby as a single mom
16. What's your favorite quote or saying? 
A vision without a plan is a hallucination
17. If you unexpectedly won $10,000, what would you spend it on? 
ETH 2
18. Are you a morning person or a night owl? 
MORNING!!!
19. What would your perfect vacation look like? 
Bali
20. Favorite Dessert? 
Butter Cake with Vanilla Ice Cream
21. Tell me about the best vacation you've ever taken. 
Senegal. Amazingly beautiful, great people, great nightlife.
22. Do you read reviews, or just go with your gut? 
I read reviews
23. What's your big passion? 
Never growing old
24. What's your signature drink? 
A smoky mezcal on the rocks
25. What would you sing at Karaoke night?
Brass In Pocket
26. What is your favorite game or sport to watch and play?
Basketball
27. Which of the five senses would you say is your strongest? 
Taste
28. If you could go back in time to change one thing, what would it be? 
Slavery 
29. What were you like in high school? 
A music nerd. Band, musicals, choirs, etc.
30. What would your perfect Saturday be like? 
Great food, music, and conversation 
31. Would you rather cook or order in? 
Cook 
32. What was your favorite subject in school? 
Anything in music/arts
33. Cake or pie? 
Red Velvet Cake with Cream Cheese frosting