Meet Teacher & Cancer Survivor Stephanie Finley She's Working to Increase Awareness of a New Surgical Technique That Has The Potential to Restore Breast Sensation For Breast Cancer Survivors & Previvors.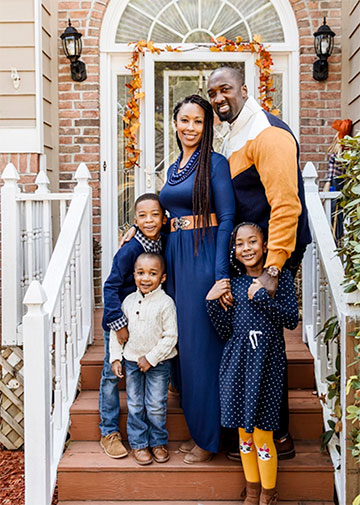 Q: Can you tell us about your experience with being diagnosed with breast cancer?
SF: In 2019, during a self-exam I found a lump in one of my breasts. A biopsy quickly confirmed my worst fear, not only did I have breast cancer, but it was aggressive. Because of the aggressive nature, my care team moved quickly to schedule me for a mastectomy as well as breast reconstruction. Because the cancer was only in one breast, I opted to have a unilateral mastectomy to save as much of my real self as possible. What I didn't realize was that during the mastectomy, nerves that provided the ability to feel my breast would also need to be removed along with the rest of the breast tissue. While I was relieved to get the cancer out, I was concerned about what it would be like to live with one breast that was completely numb – I had heard stories of numbness from others who have had mastectomies. Thankfully, my reconstructive surgeon, Dr. Michael Mirzabeigi, offered Resensation, a surgical technique performed during breast reconstruction that reconnects nerves cut during a mastectomy to help restore sensation.  
Q: What is post-mastectomy numbness and how did it impact you?
SF: Prior to going through this myself, I was unaware that numbness was significant side effect women face after mastectomy, but it's a big deal and it's something more women should be aware of. Before the sensation to my reconstructed breast returned, I felt strange and incomplete, like I wasn't fully reconnected to my body. On the side where I kept my natural breast, I had full feeling, but the other half of my chest was numb. It was like the feeling of being numbed at the dentist, but over a much larger area of my body. Thankfully, over time, because of the Resensation technique my surgeon performed, I have regained sensation on the side where I had surgery and I feel much more whole, as much like myself as you possibly can after going through cancer. 
Q: Why was restoring sensation after your mastectomy so important to you?
SF: I believe that if I could feel before my breast cancer diagnosis, I should be able to feel after and if there is something that can be done to help women feel more normal and feel more like themselves after breast cancer, I am all for it. The thought of living the rest of my life with half of my chest being numb was devastating. I knew I would never be able to 100% look like myself again, so being able to feel like myself again was so important. Cancer takes so much away from you, but having sensation restored is one less thing that I lost to the disease.
I also wanted to make sure that I still had a level of intimacy and physical connection with my children and husband after my mastectomy. Being able to feel my kids resting their heads on my chest or my spouse giving me a hug – it was so important for me to be able to still feel my family. 

Q: What advice do you have for other women in Atlanta going through a similar situation?
SF: A cancer diagnosis is scary and choosing to undergo a mastectomy can be incredibly overwhelming, so I encourage other women facing a similar situation to be their own health advocates. It is important to do your research and understand your options. I also recommend getting a second opinion for every physician in your care pathway. Even if you are happy the first opinion you receive, speaking to multiple physicians will ensure you are knowledgeable about your options and ultimately make you feel more confident in the decisions you make regarding your care. Before you meet with a physician, write your questions down. Appointments are often incredibly emotional, so having a list of questions helps ensure you don't forget something important you want to ask. One important question is what to expect regarding sensation loss and your options for sensation to be restored. In the rush to get the cancer out you may not be thinking about what life will look like after cancer but living with a numb chest may be a constant reminder of what you've been through so knowing about Resensation and the potential to restore sensation may be important to you. Lastly, talk to someone who has been through a similar situation. Hearing from other women about their experience taught me so much, gave me hope and broadened my support network. 
Q: What's the greatest fear you've had to overcome to get where you are today?  
SF: The greatest fear I have had to overcome is to stop being afraid! I have stopped letting the fear of rejection, or the fear of getting told no, stop me from going after what I want.
Q: Can you tell our audience one of your most memorable moments your career?
SF: As a teacher, I love when I can truly make an impact on the lives of my students. My most memorable moment happened when I received an email from the parent of a student, I taught in first and second grade. She had just graduated from high school with a great GPA and was headed to a Division I college. In her message, she thanked me for setting a foundation of learning for her daughter that helped set her up for a successful academic career. 
This was a moment as a teacher where I can say I saw the fruit of my labor. To know I had such a significant impact on someone's educational experience, even after so many years had passed, was inspiring.

Q: What are some of the challenges you feel women face today?
SF: Women face the challenge of receiving respect without having to earn it. We have to walk into a room and work extra hard to prove that we are worthy to even be in that room. Women should be respected without having to prove that we're worthy of it.
Q: Can you tell us how you manage your work life balance?
SF: It's simple. Don't take work home! Work stays at work. Time at home is for focusing on my family. 
Five Things About Stephanie Finley

1. What would your perfect vacation look like? 
My perfect vacation would be spent on the beach with a book, listening to the ocean. 
2. Favorite Dessert? 
I'm a chocolate lover, so definitely brownies.
3. What's your signature drink? 
Apple martini.
4. What were you like in high school?
I was a hot mess express! 
5. Would you rather cook or order in? 
Order in, but I'm such a good cook, that I'm forced to cook all the time for my family. I'm a soul food cooker. Anything with a lot of butter is what I do!