Compassion, Understanding & Knowledge: Attorney Tracie Klinke Provides Immigration Legal Services of the Highest Quality with Uncompromising Commitment & Exceptional Service.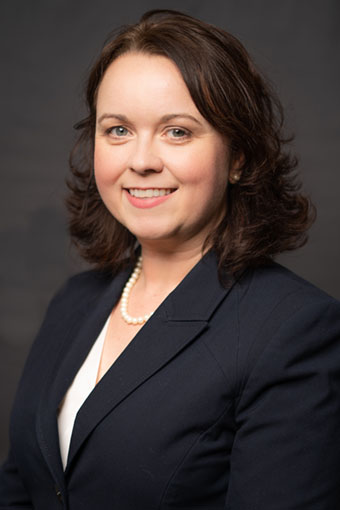 Q: What was your first job? And how did it shape or impact you?
TK: My first paid job was in high school – I was as a waitress at a local restaurant known for its pie. I'd say there were three good lessons that came from that experience. First, that I had to serve whoever sat in my section – be it someone I liked or didn't like or felt awkward around (like the most popular girl in the school). I had a job to do and couldn't let personal biases get in the way. Second, that it's good to laugh at myself. One night, I ended up with blueberry pie all over my khaki pants and couldn't go home to change. I told my customers that they could laugh with me, but not at me – and that caused us all to laugh. I think I earned more tips that day than ever before. Third, that if I could be a waitress, I could hopefully always be able to find a job and earn money (even if it wasn't my dream job).
Q: When did you know you would pursue a career in the legal field?
TK: I went to law school on a bit of a whim. I had been working with international students at Kaplan Test Prep for about a year when I realized that I was hearing the same questions over and over: "I got married, what do I do?" "I want my mom to come and visit – can you help with that" or "I got a speeding ticket and want to know if it'll impact my student visa." Every time, I would answer with "I'm not an immigration lawyer – I don't know." I got tired of saying that, so at the beginning of 2005, I took the LSAT and applied to the Georgia State University College of Law. I started classes in August 2005.
Q: What expectations did you have after graduating and receiving your law degree?
TK: I was fortunate to have a job already lined up with the firm I'd worked at as a student, so I knew what kind of work I was getting into and what the work environment would be like. I don't think I expected to eat in my car as much as I do, though. Being a lawyer is a lot of running back and forth between meetings, court, and the office so I'm always on the go.
Q: Can you share with our audience the type of law you practice and the kind of cases you handle?
TK: Our law firm handles only immigration cases with a focus on family and humanitarian cases. I do a lot of work with immigrant victims of violent crime and domestic violence. I also enjoy working on cases where U.S. Citizenship and Immigration Services has misapplied the law and getting them to see things in our clients' favor.
Q: What is your approach or philosophy to winning or representing a case?
TK: To always listen to my client. Sometimes they want a long-term solution and sometimes they want something that may work today, but not lead to a US citizenship. My role is to listen to what they want – not what I think they want – and craft solutions around that.
Q: If we interviewed all your past clients … what is "one" common word that comes up when they describe working with your law firm?  
TK: I hope they would say that we are honest. There's a lot of misleading information about immigration out there and it's hard to know who to trust. If there's nothing I can do for someone, I will tell them and explain why (just in case they go somewhere else and are promised something much better). If the odds of success are low, I'll let them know so they can make an informed decision on whether or not to try. Even on cases that are clear-cut, I never guarantee success because so much depends on the immigration officers involved. All I can promise is to do our best.
Q: Tell us about your move to Lodz Poland in 2003, and what impact it had on you.
TK: It was my first time living abroad and it showed me the struggle that people have when moving to a new country. I didn't speak the language, I didn't know the cultural norms and had to learn how to navigate things like grocery shopping, public transportation, and renting an apartment. I had to rely on awkward smiles, gestures, and colleagues for help. I think about this time a lot – how it felt to be a complete stranger and reliant on others for small things that I could have done on my own had I been in the US. I hope I carry this compassion and understanding with me to every client interaction.
Q: Which woman inspires you and why? 
TK: I have always been a big fan of Amelia Earhart. She was from Kansas, like me. She inspired women to dream their own dreams – not to live the dreams of others or force oneself to conform. 
Q: What's one lesson you've learned in your career that you can share with our audience?
TK: Don't wait to be offered something – just ask! You are your own best advocate, and no one can read your mind. If there's a leadership position you'd like, a board of directors you'd like to serve on, an esteemed colleague in your field you'd like to meet for lunch – just ask. You don't get what you don't ask for. 
Q: What advice would you give to young women who want to pursue a career as an Attorney?
TK: To say you're sorry only when you mean it. I've gone to several meetings in Washington, DC with government officials and became known as the woman who says "I'm sorry" a lot because I would start my questions with that phrase. I shouldn't be sorry for my questions and it stung to know that was my reputation. I have learned to use the power of "I'm sorry" for when it's truly something I should be sorry for – a misunderstanding, an error, something that I should apologize for. 
Five Things About Attorney Tracie L. Klinke

1. If you could talk to one famous person past or present, who would it be and why?
I'm a huge Beatles fan, so I'd choose Paul McCartney. Their music always makes me happy and I'm curious what it feels like to have brought so much pure joy to the world.
2. Favorite city?
Salzburg, Austria. It's Mozart's birthplace, so there is music everywhere you turn. It's also where The Sound of Music was set, so it's charming and beautiful. 
3. Which celebrity do you most identify with?
I don't know if it counts, but probably anyone on Jeopardy. I have lots of random trivial knowledge and am not afraid to share it!   
4. What app can't you live without?
When I first went to college, I had planned to become a meteorologist. I still love the weather and watching the sky, so I'd say The Weather Channel app.
5. Where is your ideal vacation?
Someplace new! I love to travel and having new experiences, so my favorite place is always whatever city I'm going to next.