Hailed as One of Atlanta Metro's Top Agents, Meet Realtor Debbie Faulkner. She Offers Unparalleled Market Expertise & Personal Service to Ensure You Make the Right Decision!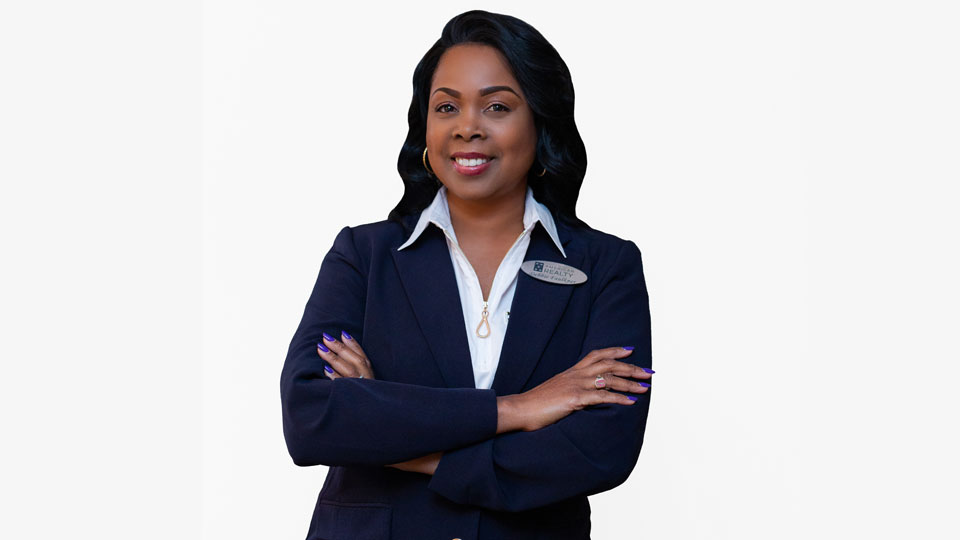 Q: What was your first job? And how did it shape or impact you?
DF: My first job was at Six Flags Over GA. This job taught me how to grow outside my position and be intentional about learning the duties of other employees. I was able to work a lot of overtime because of my knowledge. In other words, be versatile and valuable. My dad said, "You can work a job but make sure to be valuable and develop skills that you can use in case that job goes away. " Matthew Moore Jr.
Q What made you decide to have a career in Real Estate?
DF: I have been part of the industry for most of my life. My dad owns and operates a concrete construction company. He's been in business for 58 years now. His youngest sister at one point had the largest Black real estate operation in the world. That's where I got my start and mentorship. My brothers all work in the industry indirectly. One brother owns and operates a grading and hauling company, another operates a lawn care service, and one owns a trucking company that delivers building materials to various major construction operations. 
Q: Can you share with our audience what Buyers & Sellers can expect when they work with you?
DF: Four Things: Honesty, Integrity, Competence, and Trustworthiness. As a Realtor, this is the expectation. Purchasing a home or making an investment in real estate is huge. It's important to be there serving my client from start, to finish and beyond. There is nothing so important than knowing my client has confidence in me and know that I have their best interest in heart. When I instruct C.E. classes to other real estate agents, I always emphasize that we are not practicing real estate, we are professionals. That's what I give to my clients as well, Professionalism. 
Q: For those in our audience planning to buy or sell this year, do you specialize in certain types of properties and areas?  
DF: First there is no better time to buy or sell than now! Rates are great and there is not enough inventory available for buyers. As for me, I am not restricted in my business. I am connected and work with other powerful Realtors, including my son. You can rest assured, you will be taken good care of and I will be right there. When buying a home, I have a questionnaire that each client must complete. This helps me to know what their desires are and whether they are ready and able to purchase a home now. More importantly, I will know if they are willing and committed to me serving as the exclusive agent. I advise them to search for properties via my website, www.debbiefaulkner.com Together some properties are eliminated without even going to them, saving time and money. In regards to selling their home or investment property, the important information is providing my client with the current market value. I go in, assess the property, determine and advise whether any updates are needed based upon the return. My goal is to produce a marketable house, yielding my client the best return for their investment. Speaking of investment, I also rehab houses and assist other investors with getting theirs done. Key to my success in real estate is being versatile.
Q: Can you tell us what investors can expect when they attend one of your workshops?
DF: I have met a lot of investors over the years. I have served as the Realtor for quite a few of them. I have learned from their mistakes. I have been able to go in and make changes to their property to make the house marketable. It's a wonderful feeling being a Realtor with skills. They win, I win! To those wanting to invest, I invite you to attend my workshop. They will learn the fundamentals of becoming an investor before rushing out to purchase an investment property. The workshop covers the importance of Mentorship, understanding the Money, knowing the Market, and the multitude of Mistakes investors make when rehabbing a property. Too many people want to be investors or flip houses based on what they see on HGTV. My goal is to be honest, real, transparent and thorough. Investing is not for the foolish and faint, rather the focused and finishers. My goal is to assist with finding properties to rehab, calculate the cost; prevent them from making detrimental mistakes or being taken advantage of by unscrupulous contractors. I walk with them along the way for encouragement and support but they MUST be coachable. It can be tough but it is very rewarding. 
Q: What do you think are the ingredients that keep you as a top Realtor year after year?
DF: My faith and perseverance. I serve my client as unto the Lord, praying for them and being led by God. I always leave an impact on past clients by giving them good and professional service. They are the ones that will refer you to others. Proverbs says: A man that has friends must show himself friendly. I am professionally friendly. I am not an agent that serves you and abandons you afterwards. I believe in checking on my clients and letting them know to reach out to me beyond the closing if they need anything. I will do all I can to help. I am willing to serve to the fullest degree possible. I am not a secret agent, and those that know me, know I enjoy what I do. I am always enrolled in classes to stay updated on changes in the industry. I am always learning! The moment you stop learning, you stop living. I am a C.E. Instructor with the American Real Estate University. I enjoy leading classes for other professionals in this industry. I am a mentor to other agents within the American Realty Professionals of GA. I know my business. When you know your business, you can talk about it, and you can execute it. People come back to you for service and they refer you to others. People look for you when they hear about you. '#iamaRealtoreveryday' is my # .  
Q: If we interviewed all your past clients, what is "one" common word that comes up when they describe working with you?  
DF: Whew, that was a hard one so I asked my clients. The responses have blessed me and the words were many. Here's the list: Hardworking, Resourceful, Helpful, Passionate, Tenacious, Knowledgeable, Awesome, Trustworthy, Dedicated, Experienced, Diligent, Obliging, Tireless, Valuable, Precise, Genuine, Honest, Professional, Phenomenal, Confident, Informative, Personal, Approachable, Dependable, Thorough, and Reliable. After receiving these responses, this makes me more humble and desiring to rise to serve in those ways everyday! 
Q: How has technology changed the Real Estate industry over the years?
DF: Technology has changed the real estate industry for sure. Approximately 90% of all transactions begin online. Approximately 80% of those are on a mobile device. Potential buyers have thousands of homes at their fingertips through online sites. That's why it's important to show up every day as a professional Realtor and let the world know you are that agent to complete their dream of purchasing the perfect home. It goes back to the four things technology cannot offer: Honesty, Integrity, Competence, and Trustworthiness plus Relationship. 
Q: What's one lesson you've learned in your career that you can share with our audience?
DF: Stay in my lane and row my boat. Real estate transactions require teamwork and we all have one common goal, 'Closing. I am the Realtor, not the attorney, the loan officer, appraiser or inspector. No matter how knowledgeable I may be, it's always best to allow all parties to the transaction to fulfill their role. If there are any waves to overcome, I must focus, stay the course, row my boat as everyone else in order to reach the shore and Close! That's a lesson everyone needs to apply. 
Q: Which woman inspires you and why? 
DF: Michelle Obama. She is passionate, genuine, vigorous, and influential. I would also say that she walks in her own shoes and has created paths for many to walk on. This means she makes her own imprints on the earth instead of stepping in someone else's. Mrs. Obama is confident and comfortable in her skin and encourages others to be the same. Her position or prominence does not keep her from caring about the well being of others. Her encouragement of healthy eating, exercise, and education for a better life has impacted so many others, both young and old. That's how we all should be. That's how we all should love.
Q: What are some of the challenges you feel women face today?
DF: Balance, Equality, Safety.
Balance: Women are the busiest beings on earth. We extend ourselves in so many directions, doing the most for others. We work to attempting to get things done at home and in our businesses. We try to make all the family gatherings, children/grandchildren activities, meetings, conferences, workshops and events, just to name a few. We are balancing all this, the bills and neglecting to take care of ourselves. 
Equality: Most women find themselves in survival mode more often than making progress. There has always been an underlined connotation that women are not able to fulfill certain jobs. Even if she's successful in the position, women are often slighted from equal pay, equal participation, and sometimes equal information. As an African-American female Investor, I have been at one of my projects and was overlooked as the owner for both reasons. The look I've received is worth a million words. Trust me, I have put in hard work and learned a lot. I am still learning, but don't discredit me because I am not the norm. There are lots of women out here, rocking in the industry. Kudos!! Break the glass and keep rising!!
Safety: As a Realtor, my number one concern is safety. Female agents are targeted more than the news could ever cover, and maybe that's a good thing. I say that because you give a criminal an idea and they are bound to carry it out. I can't tell you how many times I have turned down a customer because there was an uncomfortable conversation. There are safety classes and measures for agents that we have to take to keep up with protecting ourselves. We can never be too careful. I have learned to be anxious for nothing, but by prayer, let God lead me. He is my protector. 
Q: Can you tell our audience one of the most memorable moments of your career?
DF: As a Realtor, it's normally closing on a huge deal or breaking numbers, but for me, it's the words from one of the family's I served. Seriously the words continue to permeate in my mind. Before searching for this one family's home, I prayed that God would use me to help them find the perfect home. Almost one year later, they closed on their new home, and I was proud to be their agent. Fast forward, months later, hearing these words spoken to me brought me to tears. The wife says, "We love our home. Thank you so much Ms. Debbie. You said we were going to have our home in a year and you were right." On another occasion, the husband tells me about the updates they've made to their home and how great it is. He says, "We love our home. It couldn't be better"! Finally, out of the mouth of one of the kids, "Thank you for helping us with getting our new home. We love it so much. When are you coming over again?" You must know all the circumstances. This has blessed me beyond measure. This is why I love being a Realtor! It can be so rewarding. 
Q: What advice would you give to young women who want to succeed in the workplace?
DF: You can be successful in the workplace, but in the midst, develop the skills it will take to fulfill your passion. Make plans to work your craft and your God given talent(s). Don't let age, money, health, education or words from the past stop you from being all that you know you can be.
Five Things About Debbie Faulkner

1. If you could talk to one famous person past or present, who would it be and why?
I would love the opportunity to sit and talk to Four Star General Colin Powell. I am very passionate about the servicemen and women and all that they sacrifice for our safety and freedom. It's not to be taken lightly. Colin Powell served well and even after his retirement, he still serves. He is a man of great integrity and humility. I always wanted to serve in the military but never signed up. However God heard my heart and blessed me to honor the service men and women in a special way. I have held onto this blessing for years because God gave me specific instructions for its use. I would like to present it to General Powell. I am working on that and it shall come to pass. You got connections to him, call me. Nevertheless, I BELIEVE!
2. Can you share with us one of your passions in life?  
I look forward to building and providing affordable homes to service men and women. At the appropriate time I will be in position to do just that. That's one reason I want to talk to Colin Powell.   
3. If you were a superhero, what would your special powers be? 
This requires a lot of thought. First thought was 'Powerhouse Debbie'. I would have the power to build homes in a flash for injured service men and women. Then I thought about being 'Big Eyed Pop Debbie'. That was one of my nicknames as a little girl and I'm sure my brothers would get a kick out of that. My powers would allow my eyes to pop wide open in search mode, find and rescue missing children and women. How rewarding would that be! But I really want powers that for exceed that. I would be called 'DD' for Discerning Debbie. My powers would be unlimited; Discerning of when to use my powers, able to see the entire picture and the consequences. If it's worthy of my help, I would be well equipped under the laws of God. Now that's some kind of SuperShero. LOL! 
4. What app can't you live without?
Facebook. I get to post what matters most to me after my morning bible study. I get to see my grandkids in action which brightens my day. I get to reach out and touch individual who may be many miles away. Individuals that may need my service can reach out and leave me messages. I get to share information pertinent to real estate and so much more. Yes I use other platforms too. Social media has great benefits. Find me 
5. Is there something else you would like to accomplish? 
I really want to build a true legacy beyond me for my grandchildren. That's one of the main reasons I work. My grandchildren are the crown upon my head. I want to create legacies that will bless them and their children's children. I believe we are to be like trees and take care of what we are connected to first. Therefore I have much work to do in order to accomplish this goal. I am confident that he that has begun this work in me will complete it until the day of Christ Jesus. Phil 1: