She Volunteers, Fundraises & Takes on Beauty One Client at A Time! Meet Manuela Davis, Owner of Voilà Salon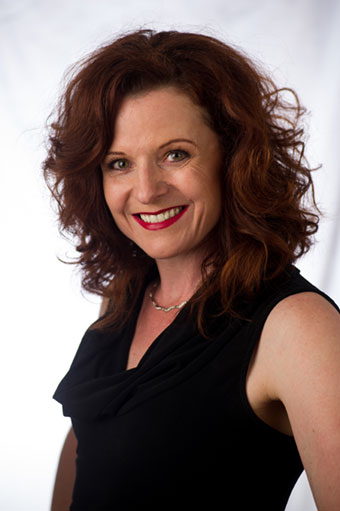 Q: Can you share with our audience, how your journey in life brought you to Atlanta?
MD: When I first came to the United States at age 20, I was fortunate to travel all over the United States. After a brief stay in Illinois, I visited Atlanta and fell in love with the Southern Charm. The People and the friendly Climate made the decision easy to relocate to this beautiful city I have called home since 1988.
Q: Why did you decide to go to cosmetology school?  
MD: When I chose my future career, I assessed my strong and weak points. Being artistic and a people person I knew I had to make a choice in the creative field. As I choose my medium - HAIR - I could encompass all of the above. My need for instant results, creativity and close contact with people allowed me to use all my talents. I take great pride in beautifying the world one person at a time.
Q: What was your first job? And how did it shape or impact you?
MD: Like many - my first line of work was in the hospitality field. I was a server in a lovely hotel in Zurich, Switzerland. I worked the craziest hours day and night. Zurich is a beautiful place to visit and a difficult place to call home. My lesson from that experience was my creativity was not tapped and I needed to be more creative. I left after two years to see the world and to come to this beautiful and friendly country which felt like home immediately.
Q: Tells us about your Salon Voila, … first how did you come up with the name and what are some of the services you provide?
MD: Even prior to opening our Salon I used to swing my clients around after finishing a service with the mirror to look at the back of their hair while saying "Voilà" which stands for "there it is" in French. It was a natural choice to call our salon Voila – 
My business partner, Scott Law and I opened the door in 1992 in Historic Roswell. Voila is in a 175 year old Mill house and we specialize in multi-dimensional Hair color and texture services, haircuts and makeup services six days a week. It has been a 27 year learning experience. We continue evolving constantly to stay up with current trends in our industry.

Q: I know community is very important to you … can you share with us some of your experiences as a volunteer?
MD: It all started when my business partner went through a kidney transplant and the impact on his new lease on life. I started to volunteer during fundraisers for GTF, an organization who helped him at the time. It taught me that all of us have different strengths and after analyzing mine I found out that I am strong in the organizational part of fundraising opportunities. The financial impact to a Nonprofit after a successful fundraiser is the reward of presenting funds. It is very fulfilling to present a financial gift that can help so many. My heart goes to children's causes in the Roswell area and by supporting College Scholarships and Teachers Grants. The Roswell Woman's Club is the best fit as we disburse 50% of the funds raised to Educational Grants and Scholarships.
Q: For those not familiar with the Roswell Woman's Club, can you share the club's vision and what you hope to accomplish as President?
MD: Giving back is the legacy of the RWC. Volunteering, Giving and enriching lives. 
My vision is to have strong fundraisers, shorten our meetings and increase our volunteer time. It has been a success so far during this year and we will be able to host more fundraisers next year. We are a successful club of 202 members and have achieved a successful Third annual Holiday Home tour.
All proceeds from fundraisers are disbursed in May at our Award Ceremony during which we support our community in areas of educational scholarships and grants for human Services, cultural arts, historical preservation, and urban improvement.

Q: How do you manage your work-life balance?
MD: It is a constant struggle to balance the Work - Family - Giving Back balance. I am an early riser and dedicate my first two to three hours a day to the Roswell Woman's club, then go for a walk with my dogs and usually at nine or ten I am at work at the salon. Family time is after I come home from the salon. Everything in my life has an allotted time and I know what I am doing at what time as I schedule my life in 45 minutes increments. There is very little time for myself right now, so I cherish the solitude of a walk in the park to mentally review my day and tie up loose ends.
Q: What's one lesson you've learned in your career that you can share with our audience?
MD: There are really two lessons I live by. 
- One is that the glass is never too full. I realize when I need something done - give it to a busy person because they will schedule time to get it done.
-The second is do what you love, and you will never work another day in your life!

Q: Which women inspire you and why? 
MD: There are three women. My mother because she is the hardest working woman I know. Her life has evolved from being the breadwinner of our family to now being the glue that holds us all together. Her life is a constant vision of strongly instilled values of integrity and hard work. 
The Queen of England for her leadership and dedication to her country and 

Audrey Hepburn for her beauty and grace.
Q: What are some of the challenges you feel women face today?
MD: The number one challenge in my mind is that women struggle with being a mother and wife while being a professional competitive income producer. The struggle of equal pay is an ongoing challenge for most, and the work protocol is difficult to keep up with while balancing a work - family.
I believe some women have a hard time getting in touch with their softer side.
Five Things About Manuela Davis

If you could talk to one famous person past or present, who would it be and why?
Ronald Reagan - for being able to handle the role of Leader of the Free World and doing it so well that many others after him use him as a guideline. He was able to balance family and work balance like no other before or after him! A great example to me as far as prioritizing.
2. Favorite city?
Budapest is a hidden Gem on the verge of being discovered. For the history, Architecture, Culture, entertainment and friendliness of the people! So much to see! Budapest is considered the "thermal bath capital of the World". The Budapest Parliament building is one of the most beautiful buildings I have ever seen. The shopping is amazing, and the street food district has more ambiance than Montmartre.
3. What simple pleasure makes you happy?
Nature - a walk in the park. We live in Roswell GA and we scored the gold medal for Parks and Recreation Areas nationwide. We are fortunate to be adjacent to one of the best Parks Roswell has to offer. Such peace and quiet in the midst of our buzzing lives gives me tremendous pleasure and refreshes me as my dogs and I take a daily stroll.
4. What's the best advice anyone's given you?
Be kind to yourself. In my world, I am being torn in many directions at one time. It is important to take care of yourself first. If you don't - no one else will. If you don't - you can't take care of anyone else. If you don't - you will fail. Don't Procrastinate.
5. How do you release stress?
Exercise and meditation. Sometimes a walk in the park in solitude will clear my thoughts, while other times I am in need of a more intense exercise class such as a spin class. 
Half of my stress is my rigid time schedule. I try to eliminate half of my stress before it happens by being one step ahead in planning my day and always improve my productivity.