Response, Reliability & Results Fighting for Your Legal Rights, Meet Attorney Mia Frieder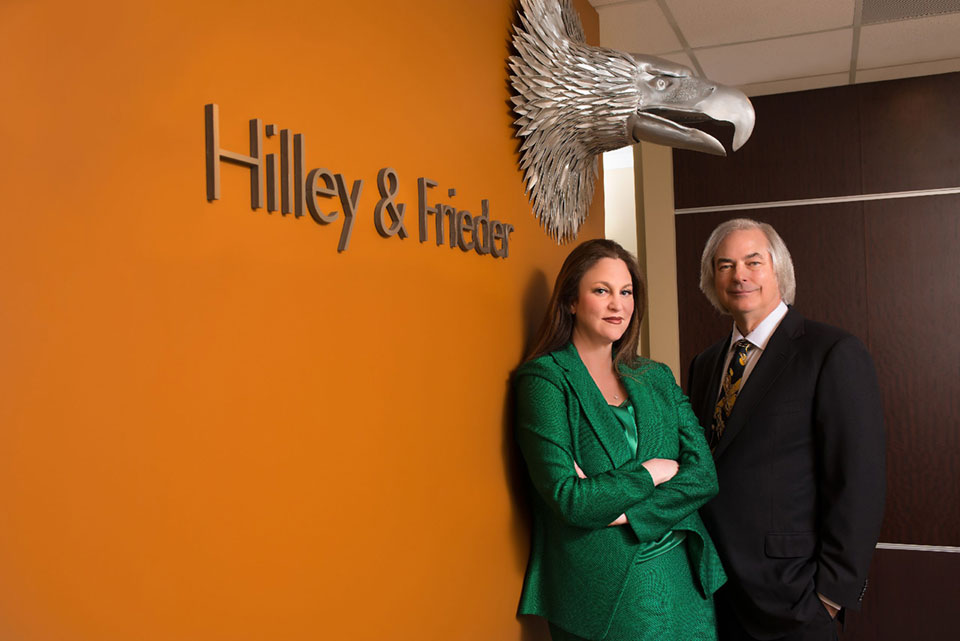 Q: Why did you choose to become a lawyer?
MF: I really enjoy helping people. As a plaintiff's lawyer, I represent individuals and families, not companies. One of the privileges of my profession is that I get the opportunity, not only to meet different people, but to learn about them. In order to represent someone in an adversary proceeding like a trial, you have to know about your clients. So, I get the opportunity to be drawn into their lives. It's a great privilege, and one I don't take lightly. I hope that I have been able to make a difference - a change for the better - in people's lives
Q: How long have you practiced law?
MF: I was a writer for a couple of years when I first came out of law school, but I've been practicing over twenty years. For the last ten, I've practiced with my husband, Ronald Hilley, also a lawyer.
Q: What type of cases do you generally handle?
MF: I handle cases when a person has been very seriously injured, usually through medical malpractice. Some lawyers do not like to handle medical negligence cases because they are expensive and time consuming, but I find the issues are challenging and unique. I also have a strong empathy for the victims of medical negligence, because it is one of the areas where there is not a level playing field – very few patients are on an equal footing with their doctor, in any situation. When malpractice is involved, the patient really needs an advocate to fight for them.   

Q: What is your approach or philosophy to winning or representing a case?
MF: Every case is unique and requires its own particular approach. That said, the only way to win a case is knowledge. I must know my case - and my client - better than the defense. Once the defense knows something I don't, the balance of power shifts.
Q: Can you share with our audience some of the pro bono work you have done?
MF: I am very active in supporting arts in the community, especially music. I'm a founding member of the Advisory Board of the Atlanta Symphony as well as a patron. I'm very involved in outreach, exposing more members to classical music, especially since it has had such a profound impact on my own family. My daughter is a high school celloist who performs with the Emory Youth Symphony Orchestra in Atlanta, and my son attends Juilliard in New York where he studies double bass performance and has his own website: Blakehilleybass.com 
Q: What advice would you give to young women who want to pursue a career as an Attorney? 
MF: The possibilities are limitless. This is advice I give my own daughter because I believe that hers is the first generation of young women who can truly pursue both a career and a family. It will always be a difficult and delicate balance, but society is much more accepting of working women and working mothers, and technology has allowed all professions, including lawyers, a greater flexibility and control in their lives.
Q: Can you tell our audience one of your most memorable moments of your career?
MF: One of the most memorable moments of my career is the very first time I settled a case for over a million dollars. It was a tragic case of medical malpractice; a young girl suffered brain damage during the placement of a central line. She became blind and paralyzed. The settlement allowed her family to purchase a home, a van and the medical equipment to make the rest of her life livable.  
Q: What's one lesson you've learned in your career that you can share with our audience?
MF: Perception, not reality.
Q: What are some of the challenges you feel women face today?
MF: I think women today are still coping with many of the same challenges that faced women before us. The biggest struggle, I think, is finding the sweet spot between caregiver at home and career woman at the office.
Five Things About Attorney Mia Frieder

1. If you could talk to one famous person past or present, who would it be and why? 
I don't have anyone in particular - I've found most famous people are less interesting than the people I meet every day. I have often wondered what it would be like to talk to someone who lived a hundred years ago and get his/her take on the modern world.  
2. What book are you currently reading? 
I listen to audiobooks because if I'm reading, it's usually for my cases. Right now, I'm listening to "Maybe You Should Talk to Someone," by Lori Gottlieb.
3. What's your favorite food? 
Pizza.
4. Do you have a favorite city?  
I love living and working in Hotlanta (Atlanta). 
5. Which celebrity do you most identify with?
I don't identify with any celebrity; I'm always drawn to the underdog.