Leading the way to Reduce Breast Cancer Through Awareness & Her Passion, Meet Breast Cancer Survivor & CEO of Susan G. Komen of Greater Atlanta, Cati Stone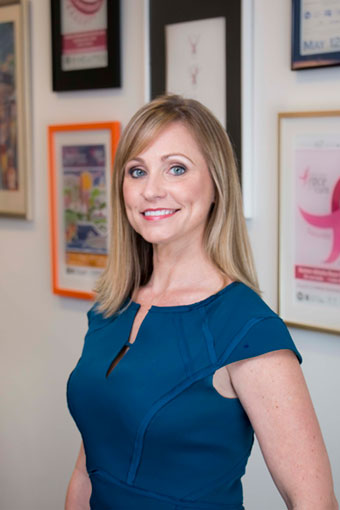 Q: What did you think your career path would be after graduation from high school?
CS: I went to college on a dance scholarship and had thoughts of being a Choreographer.  
Q: What expectations did you have after graduating and receiving your law degree from the University of Alabama School of Law?
CS: I was amazed at the opportunities a law degree offers, but I found that litigation, particularly business litigation, was a good fit for me.  
Q: What led to your involvement to become an active supporter of Susan G. Komen?
CS: I became involved with Komen shortly after I was diagnosed with Stage 3, aggressive breast cancer at the age of 35. A key drug that literally made my survivorship possible – Herceptin – was developed through research funding from Susan G. Komen, so I got involved to make sure that every woman has everything she needs to detect and survive this disease. It was so important to me that I made the bold decision to leave my law practice to work at Komen Atlanta.    
Q: Prior to being named as CEO, you served as Executive Director of Susan G. Komen … can you share with our audience, some of the programs you led along with the impact they produced?
CS: Since joining the Komen Atlanta family in 2013, our hardworking team has refreshed and revitalized every aspect of our business, including how we drive impact in the community, how we raise money to fuel our mission, how we operate as a business and how we communicate our work to the Atlanta community and beyond. As a result, we have grown in terms of revenue and have increased the number of women we serve each year.    
I am particularly proud of our efforts focused on achieving health equity for African American women in Atlanta, who are 45% more likely to die of breast cancer than their Caucasian counterparts. The breast health disparities for black women in Atlanta are some of the highest in the country, and that is unacceptable. Komen Atlanta is actively working in the African American community with the aim of bringing the city of Atlanta together to achieve breast health equity for black women in Atlanta.

Q: As, CEO, what is it you like to say to potential donors and volunteers?
CS: I am proud that Komen is the only breast cancer organization that takes a 360-degree approach to fighting breast cancer on all fronts. We fund life-changing research. We advocate for compassionate public policy and patient rights. We empower people with fact-based information and provide access to the care they need. We provide treatment assistance and emotional support. This 360-degree approach is what is needed to achieve our vision – a world without breast cancer.
Q: What do you love most about Susan G. Komen and the work you all do?
CS: Komen's work is literally saving lives. It saved my own. And the Komen community is unlike any I have ever been a part of before. Working with colleagues and volunteers who truly want to make a difference in the lives of others is such a joy.  
Q: What are some of the challenges you feel women face today?
CS: As far as we have come, I still feel women are generally underestimated.   
Q: What advice would you give to young women who want to succeed in the workplace?
CS: Choose a career that involves doing something you really love, and you will be rewarded every day.    
Q: How do you achieve work-life balance?
CS: I am not sure there will ever be an equitable balance between work and life, but I try to keep my priorities in order and really revel in the time I spend with my daughter and doing the things I love, like exercising and reading.  
Three Things About Cati Stone

1. If you could talk to one famous person past or present, who would it be and why?  
William Shakespeare. I am a complete Shakespeare nerd. I am convinced he would be funny and charming, and I would love to get his thoughts on the modern interpretations of his work that I adore so much.  
2. If your life was a movie, what song would be on the soundtrack?
"Sultans of Swing" by Dire Straits. It isn't indicative of anything particular in my life, but I really love that song.  
3. Cake or Pie? 
Pizza pie!