Specializing in Sno-Balls, Along with Simply Delicious New Orleans Desserts & Dishes Meet Bourbon Street Ice Co-Founder, Dee Carter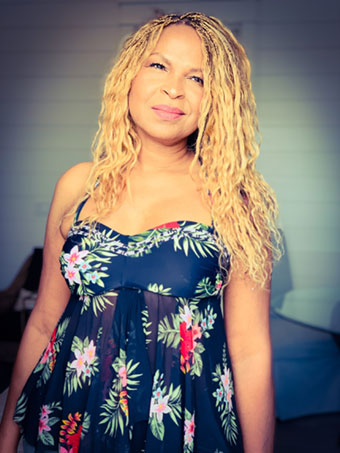 Q: I understand you are from New Orleans … what was it like to grow up in the Big Easy?
DC: Growing up in New Orleans was a cultural experience. My mother raised six of us, so she COOKED. Great food was an everyday experience in our entire city. Blue Mondays were red beans and rice with cornbread and candied yams. Fridays are celebrated with seafood everywhere in New Orleans, so you knew you were going to eat gumbo, fried fish and potato salad. We celebrated everything in a grand way. We celebrated weddings and even death/funerals in the streets with parades (2nd Lines). I grew up Uptown on the Mardi Gras Parade route so I could stand in our backyard and watch the parades. Needless to say, we couldn't wait for Epiphany to eat king cakes all season and catching the trolley was an everyday part of my commute to school.
Q: Do you miss living in New Orleans?
DC: Yes, I do. What I miss the most is the culture. New Orleans has in my opinion, the most unique culture in the USA. For example, the city still has a strong French influence even though it has been hundreds of years since they colonized the area. Additionally, the area was also influenced by the Spaniards who also were there along with Africans brought over there during the slave trade. 
Q: Can you share a little history with us about how Bourbon Street Ice evolved?
DC: The idea of opening Bourbon Street Ice was born when I brought my husband who is from New York, to a few of my favorite snoball stands on a visit home. He loved snoballs so much after having his first one he said, "we should open a snoball shop one day in Atlanta!" Then years later my husband who is an engineer was downsized from his job and at that moment we decided to make the 'jump' and lay the groundwork to open Bourbon Street Ice! We wanted a place that paralleled my life with bringing cuisines from NOLA like the gumbo, pralines and King Cake along with our snoballs. Since we live a healthy lifestyle and only eat natural/organic foods at home it was a no brainer to also want to serve that same kind of food in our establishment. Additionally, I have a child who is allergic to artificial dyes so we wanted a place where kids just like him could go to a place where everything on the menu is good. We go the extra mile to use the BEST ingredients. For example, all of our syrups are made with Organic Sugar, all of our Ice Creams are Organic and many other ingredients. 
Q: I see you use all-natural ingredients … I have horrible allergies, tell me about the gluten-free king cake you serve?
DC: Allergies, unfortunately are VERY common in my family. I personally have an intolerance with gluten and dairy can upset me also. All of my kids also have issues with gluten and my youngest cannot tolerate artificial colors without it affecting his behavior. Artificial colors have been shown thru studies abroad to have a strong link to ADHD symptoms. Additionally, almost all of my nieces and nephews are all extremely allergic to nuts, dairy and seafood. With all this experience dealing with allergies, I definitely wanted to open up a place that is allergen friendly. Therefore, I spent a significant amount of time to practice and come up with a wonderful gluten free king cake recipe. It took me a year to develop it because I am a perfectionist, but the hard work paid off. We don't have a separate facility, so we bake our gluten-free king cakes on a special day after we have cleaned our facility. Finding a good gluten free king cake is almost impossible so it was very popular once people learned about it. For those who can't do dairy (by choice or not) we also make a great Vegan King Cake. Besides the King Cakes, I also make a Vegan gumbo and all of my gumbo recipes are gluten free. Virtually every option we serve in the store we strive to have it either be allergen free or have an allergen free option to choose from.  
Q: What are some of your customers favorites?
DC: Our most popular snoball is one of our Signature Snoball Combos we call the "New Orleans Cheesecake." This is a snoball flavored with strawberry syrup, stuffed with a piece of our homemade Cheesecake and then topped with our homemade Organic Whipped Cream and fresh sliced strawberries.   
Q: What was your first job? And how did it shape or impact you?
DC: My first real job was a nurse. I have always had a knack on how to look at people and be able to tell them what is wrong with them. I love helping people and nursing was a way to do that. I also served in the Army and spent many years working at Walter Reed helping tend to our soldiers and that made me feel very proud. 
Q: Where do you see Bourbon Street Ice in five years? 
DC: I see Bourbon Street Ice coming to a neighborhood near you. I'd love to share our great food, fun, culture and our philosophy on healthy eating and living!
Q: What's the greatest fear you've had to overcome to get where you are today?  
DC: Stepping out on faith. The greatest fear I had to face was the fear of breaking the mold and barriers. It is much easier and comfortable to work a 9 to 5 job with a predictable income. When you start your own business there are no guarantees of anything. You can have a limitless income or none at all. 
Q: Can you tell our audience one of your most memorable moments your life?
DC: I married the man of my dreams in my fairytale New Orleans French Quarter wedding.
Q: What's one lesson you've learned in your career that you can share with our audience?
DC: No matter what, keep going … keep pushing. When one door closes, another one opens. In every situation no matter how bad it may seem, there can be a silver lining you can gain from it.  
Q: Which woman inspires you and why? 
DC: My mother Rebecca Trotter is my inspiration. Raising six of us by herself on a shoestring budget, we never even realized how much money we didn't have. Mom was an entrepreneur that made our clothing and she taught me how to live naturally and how to cook the best vegan dishes.
Q: What are some of the challenges you feel women face today?
DC: More work, less pay. 
Q: What advice would you give to young women who's considering starting a business? 
DC: Study your craft. Be determined and don't let anybody tell you "you can't"
Five Things About Dee Carter

1. If you could talk to one famous person past or present, who would it be and why? 
It would be Oprah Winfrey. I would get energy just being in her presence.
2. What's the best advice anyone's given you?
Never give up!
3. Where is your favorite vacation spot? 
Seagrove Beach, FL
4. What's your favorite movie? 
The Princess and the Frog
5. Who had the most influence on you growing up?
My mother Rebecca Trotter. Raising six of us by herself on a shoestring budget, we never even realized how much money we didn't have. Mom was an entrepreneur that made our clothing and She taught me how to live naturally and how to cook the best vegan dishes.