From Her Grandmothers Kitchen to Creating an Oasis for Dining, Chai Yo Modern Thai, Executive Chef & Owner, DeeDee Niyomkul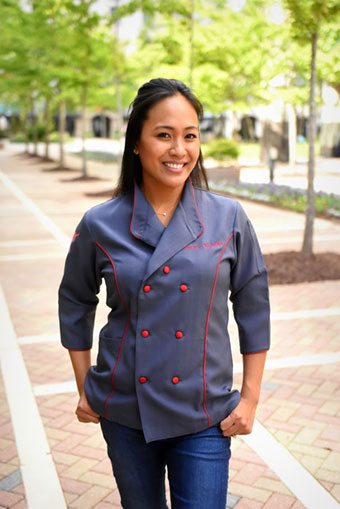 At Chai Yo Modern Thai, award-winning Chef/Owner DeeDee Niyomkul constructs imaginative classical Thai dishes using modern techniques which carry the breath and soul of Thailand in every bite. Niyomkul's menu is carefully focused on delivering an inventive interplay of Thai flavors and textures, guiding the diner on a culinary exploration of provincial Thai dishes.
Q: Can you share with our audience when your passion for cooking started?
DDN: I think the first time was helping my mom in the kitchen at Nan Thai Fine Dining. I started in the front of the house managing and training the staff. There were busy nights where I would jump into the kitchen and work the line and that's when I really discovered my passion for food. I realized it brought out my creative nature and how I could do this with food.
Q: As a Chef, what's the one ingredient you can't live without?
DDN: Fish Sauce
Q: Which dish is most popular on your menu?
DDN: Beef Cheeks Panang at Chai Yo Modern Thai- 10-hour sous vide beef cheeks in sweet panang curry or the starter the Sakoo Sai Moo- tapioca dumplings. This dumpling is a street snack but takes time and patience to make the filling and mold it into tapioca. There's definitely a fine art to this dish.
Q: What are your future plans for the restaurant?
DDN: We are very excited to explore the catering and delivery offerings to expand our brand.
Q: What advice would you give someone considering a career as a Chef?
DDN: You really have to have passion to take this path. If you do, it gives you a place to be creative and express yourself. Food is always evolving so the opportunities to learn and create are infinite. 
Q: Can you share three tips for running a successful restaurant?
DDN: Focus on Guest Experience, foster a healthy and enriching work environment for your staff, embrace guest feedback.
Q: Can you tell our audience one of your most memorable moments your career?
DDN: Serving my favorite band, Radiohead. 
Q: What's one lesson you've learned in your career that you can share with our audience?
DDN: I've always found the human connection to food fascinating. It doesn't matter who you are, where you've come from, or where you're going, people always have an almost sacred connection with their food. The culinary experience is one of the greatest of equalizers. It is my absolute privilege to provide a platform for this equalization, even if it's only for a moment. This is the magic that fuels my love for this industry.  
Q: Which woman inspires you and why?
DDN: My mother … her work ethic is matched only by her success.
Q: What are some of the challenges you feel women face today?
DDN: I believe gender stereotypes in conjunction with the naturally occurring domestic pressures present difficulties for women. The restaurant industry is as much male dominated as the most other professions. That said, it can more difficult to engage, but the greater the challenge, the greater the reward.
Q: What advice would you give to young women who want to succeed in the workplace?
DDN: Perseverance prevails! 
Q: What's your advice for women in male-dominated fields?
DDN: All our achievements set the example for future generations. This is a great responsibility and honor. 
Five Things About Chef & Owner DeeDee Niyomkul

1. If you could talk to one famous person past or present, who would it be and why? 
Buddha
2. Who's been your biggest influence in your life? 
My husband, his motivation and support are steadfast.
3. If you were a superhero, what would your special powers be?
Multiplicity 
4. What app can't you live without?
Calendar
5. If they made a movie of your life, who'd play you?  
Charlize Theron